Gravure cup rollers are used for gravure coating, laminate coating, flexography and gravure printing. Gravure pattern, mesh and depth are selected depending on coating materials and amount, base materials and feed speed. In addition, roller cleaning without solvent is available.
MILL ENGRAVING
This is a method to transfer the patterns by fitting a mini roller, called a Mill, into the gravure cup roller.
PYRAMID TYPE CUP

Pyramid type cup is suitable for the small amounts coloring and coating. It is used for transfer without doctor blade often.

TRAPEZOIDAL TYPE CUP

Trapezoidal type cup has much transferability than Pyramid type cup. It is used for transfer with doctor blade often.

HEXAGONAL TYPE CUP

Hexagonal type cup has much transferability than Trapezoidal type cup cause larger space and angle. It is suitable for heavy materials like adhesive.

VIRGULE TYPE CUP

Virgule type cup is suitable for viscosity materials such as amounts of colorant, adhesive, and magnetic material.
ETCHING ENGRAVING
This is a method to engrave patterns by masking the surface of the roller and eroding arbitrary patterns.




The optional pattern cups are available.
Precision adjust the amounts of coating on width direct is
available by gradation.
There is no difference in level between engraved parts and
non-engraved parts.
No consistent engraving, engraving in uniform.
Partial painting and intermittent painting are available.
Non-physical impact engraving brings accurate roller
manufacturing.
The minute patterns are available.
LASER ENGRAVING (CERAMIC GRAVURE ROLLER)
This is a method to engrave patterns directly with a laser after spraying ceramic on the surface of the roller.


Spraying superior abrasion-resistant, corrosion-resistant ceramic (chromium oxide)
Engraving fine patterns, which exceed 1000 Mesh in size.
EXAMPLES OF GRAVURE CUP ROLLER USE
GRAVURE UNIT TEST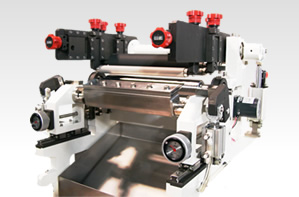 We arrange a simple gravure unit to compare patterns, which are produced on the materials, each of pattern specifications, engraving method, and surface finishing.
We manufacture gravure rollers with any pattern specification to meet your requirements.
This unit can be attached to our testing machine GPD350D.
Roller size
D60xW280mm
Coating method
Direct, reverse
GPD350D's dryer is available.
ROLLER CLEANING
Mix compressed air, water, and media (powder), and spray it on rollers to clean them.
No solvent is used at all.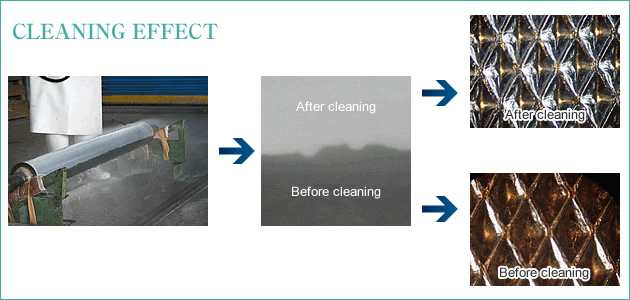 SPECIFICATION

Extraneous matter Hot-melt resins, silicon, adhesive, paper dust, etc.
250 Mesh or less
Consult us for details.