In our testing room, we have testing machines as follows: a calendering machine, two roller pressing machines, a laminating machine, coating machines including gravure coating and hot melt coating. The calendering machine is able to be changed its rollers, embossing rollers, steel rollers and elastic rollers.
Customers are able to use these fixtures for making sample and conditioning test. We also consider manufacturing methods with customers and propose the optimum machines as customer's necessities.
CALENDERING, PRESS, AND LAMINATING APPLICATIONS
Ultrasonic wave generating system is equipped in our testing room.
HORIZONTAL MINI CALENDERING MACHINE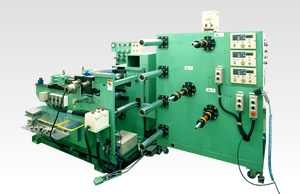 Material width
Max 300mm
Feed speed
0.5-40m/min
Temperature
room temperature -150°C
Total pressure
10-80kN(hydraulic pressing), 2-20kN(pneumatics)
Embossing, ultrasonic wave embossing and various calendaring can be used to create prototypes in the testing room.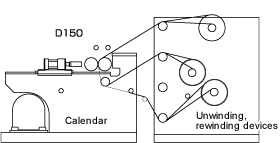 Ultrasonic wave embossing
The ultrasonic wave embossing is a method with heat fusion for the thermoplastic material by using 20,000 Hz ultrasonic wave which generates frictional heat.
It enables embossing and heat fusion without losing a material surface texture, a density of the material is increased only at the emboss pattern put position.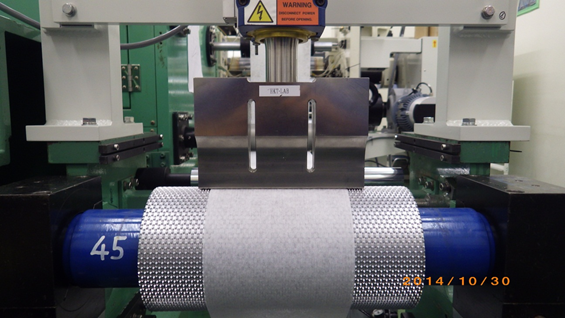 HIGH-PRESSURE MACHINE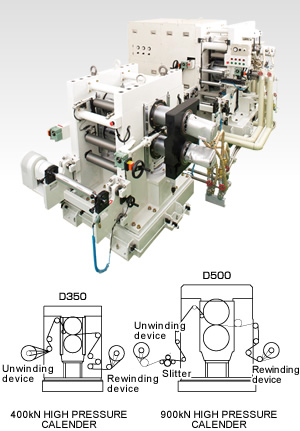 900kN HIGH PRESSURE CALENDER
Roller diameter
500mm
Roller width
400mm


(Effective width:350mm)

Feed speed
2.5-50m/min
Temperature
room temperature-120°C
Total pressure
150-700kN
Trimming slitter
400kN HIGH PRESSURE CALENDER
Roller diameter
350mm
Roller width
400mm

(Effective width : 350 mm)

Feed speed
1-20m/min
Temperature
room temperature -120°C
Total pressure
100-480kN
Resin roller pressing test is available.
HIGH-TEMPERATURE LAMINATING MACHINE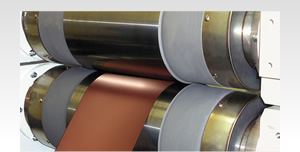 Roller size
D285×W400mm


(Effective width:300mm)

Feed speed
1-14m/min
Temperature
room temperature -400°C
Total pressure
20-150kN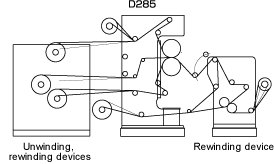 COATING APPLICATIONS
GPD350D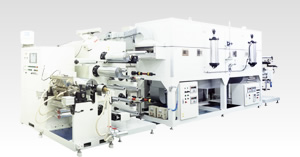 Coating width
Max 350mm
Material width
Max 400mm
Coating temperature
Max200°C
Feed speed
1-50m/min
Dryer(1.5mx3zones) with an infrared thickness gauge

The coating methods illustrated below are available by replacing the coating head. Please contact us for details.

GPD340UV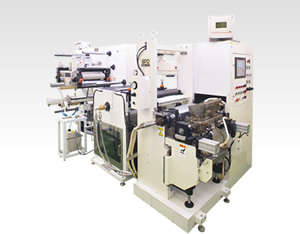 Coating width
Max 340mm


(A slot-die : Max 300mm)

Material width
Max 400mm
Coating temperature
Max 180°C
Feed speed
1-30m/min
UV irradiator(effective irradiation width 300mm) with an infrared thickness gauge